6 min read
Francisco de Goya was a famous Spanish Romantic painter. Art lovers and scholars consider him one of the most important Spanish artists of the late 1700s and early 1800s. His paintings and other artworks influenced important 19th- and 20th- century painters. Art scholars regard Goya as the last of the Old Masters and the first of the moderns.
In 1786 the artist Francisco Goya became a court painter for the Spanish Crown. During his early career as a court painter, he created many portraits of the Spanish aristocracy and royalty. Unfortunately, he suffered an illness in 1793, which left him deaf. Despite his deafness, he was appointed Director of the Royal Academy in 1795. In 1799 he became "Primer Pintor de Cámara" ("Prime Court Painter"), the highest rank for a Spanish court painter.
Goya retreated to the French city of Bordeaux in 1824. Unfortunately, a stroke left him paralyzed on one side, resulting in failing eyesight. He eventually died and was buried on 16 April 1828 at age 82.
Goya Started to Paint Portraits of the Aristocracy and Royalty
Francisco de Goya received his first commissioned work to paint someone of the aristocracy in 1783. The Count of Floridablanca, who was a favorite of King Charles III of Spain and one of his ministers for a time, commissioned Goya to paint his portrait. This portrait is seen as the first official portrait painted as a commissioned work by Goya. During this time, Goya became friends with the King's half-brother Luis. He spent two summers with Luis working on commissioned portraits for the family.
His circle of patrons expanded, and during the 1780s, his patrons included the Duke and Duchess of Osuna, the King, and other essential people he painted. From 1786, Goya became a Court Painter for Charles III and received a regular salary. His commissioned painting of Charles III depicts the King in royal hunting dress. He is wearing a hunter attire, with the sashes representing the Orders of Carlos III, Saint Januarius and the Holy Ghost, and the Golden Fleece. On the collar of a dog sleeping at his feet is the inscription "REY N.o. S.r" ("Our Lord the King").
When Charles IV became King, Goya was also appointed court painter in 1789. The following year he became the First Court Painter. As First Court Painter, he received a salary of 50,000 Spanish Reals and an allowance of 500 ducats for a coach.
Important Patrons and Paintings of the Royal House and Aristocracy
Apart from the Charles III and Charles IV paintings, he painted Manual de Godoy, the Spanish Prime Minister, and many other nobles. Spanish nobility heard about Francisco de Goya portraits and commissioned him to paint their portraits. Paintings by the artist Francisco de Goya that were commissioned include portraits of
Pedro Téllez-Girón, the 9th Duke of Osuna
Duke of Osuna's wife, María Josefa Pimentel, 12th Countess-Duchess of Benavente
José Álvarez de Toledo
Duke of Alba
Duke of Alba's wife María del Pilar de Silva, and
María Ana de Pontejos y Sandoval, the Marchioness of Pontejos.
In 1801 he was commissioned to paint Godoy to commemorate the victory in the War of the Oranges against Portugal.
P​​ortrait of Manuel Godoy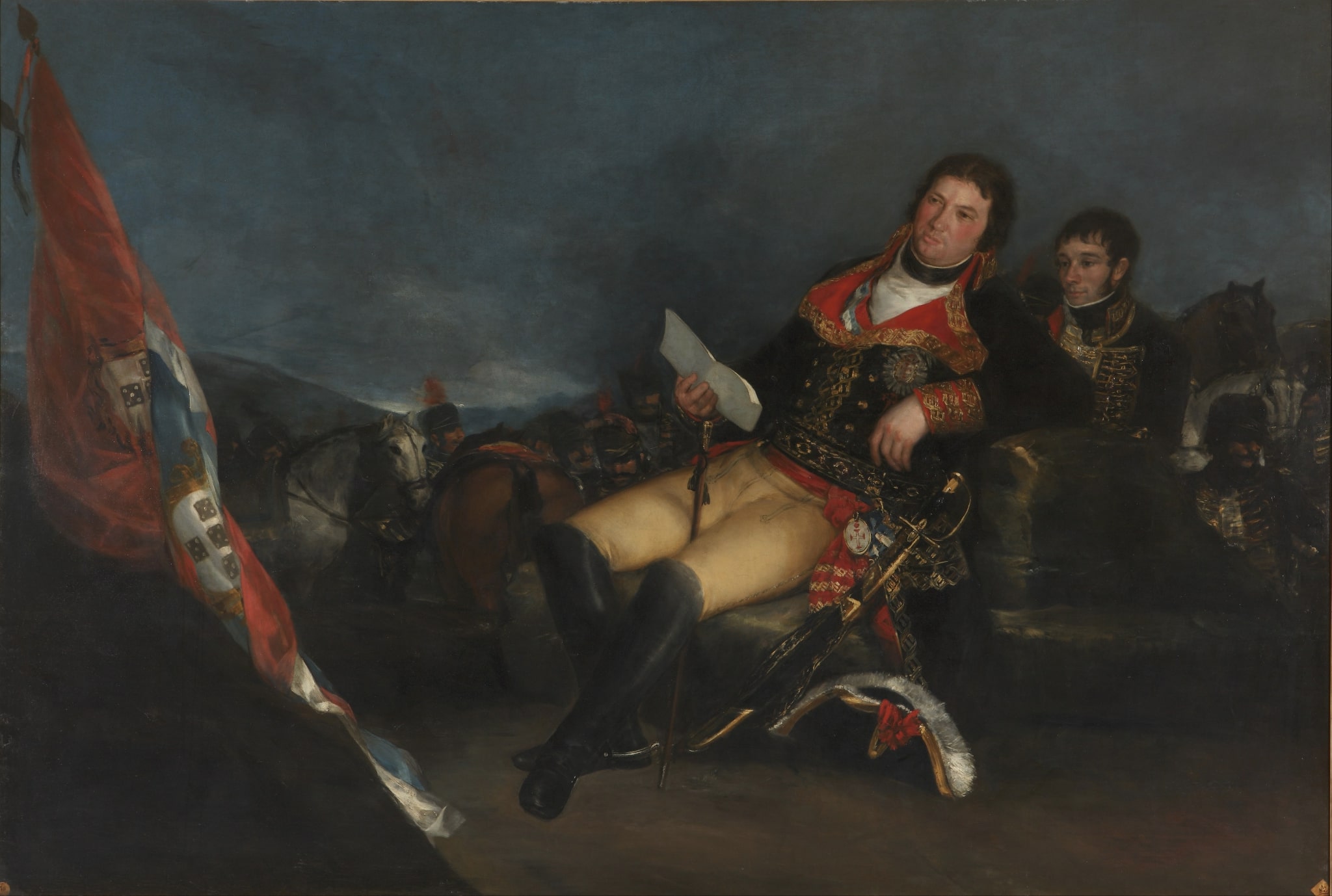 Manuel Godoy commissioned the oil painting "Portrait of Manuel Godoy" in 1801 to commemorate his victory in a battle against the Portuguese. Godoy's self-belief is depicted with his unusual reclining posture, the surrounding horses, and the baton situated between his legs.
Goya captured Godoy's arrogance through his posture and his inclusion of Portuguese flags. The intensity of the artwork is a result of Goya's choice of lighting.
Nowadays, this painting is seen as Goya's commentary on the pompous Godoy. Although Goya and Godoy were friends, it didn't stop Goya from creating satiric artwork. Goya was never afraid to comment on social and royal events, which influenced how he depicted his objects.
Charles IV of Spain and His Family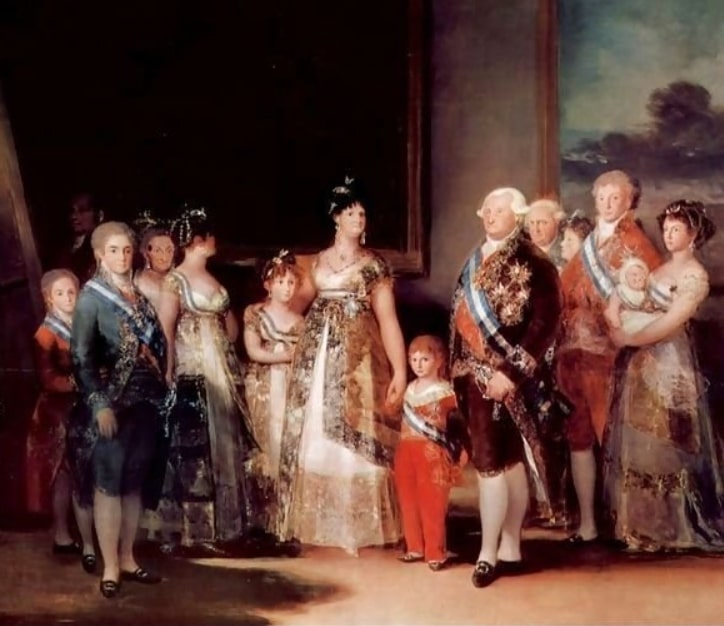 As a result of Goya's habit of commenting on social and political issues, his paintings of royalty were also not all flattering. The painting "Charles IV of Spain and His Family" is seen by many art critics as a brutal assessment of the royal family. This 1801-painting is a harsh evaluation of the ruling household.
Modern art scholars view the portrait of the royal family as satirical. They believe that Goya has revealed the corruption behind the rule of Charles IV in this painting. Nowadays, most historians agree that under the reign of Charles IV, his wife, Louisa, had absolute power.
Therefore, Goya placed her at the center of the group portrait to indicate her position of power. From the back left of the composition, one can notice the artist himself looking out at the viewer. The painting behind the family portrays Lot and his daughters, reflecting the underlying theme of corruption and decay.
La Maja Desnuda
Most of the commissioned Francisco Goya art was done by Goya as portraits of the persons who had commissioned the work, family portraits, or portraits of other family members. Sometimes, however, he was commissioned to create a work with a subject not related to the person giving the commission.
One of Goya's most famous paintings is "La Maja Desnuda" ("The Nude Maja"), and it is believed Godoy has commissioned it. He had a private nude collection and wanted Goya to paint a nude.
It is an oil on canvas painting and portrays a nude woman reclining on a bed of pillows. It is renowned for the unashamed gaze of the model toward the viewer. It is also one of the earliest Western artworks to depict a nude woman's pubic hair without negative connotations such as being a prostitute.
Aristocratic Familiarity
Although many of Francisco Goya's artworks were not connected or related to his official work as a court painter, the position allowed him to meet influential people and aristocrats who commissioned works. The Spanish aristocracy knew about Francisco Goya's art and was impressed by his portrait style. Check the paintings by the artist Francisco Goya, and you'll realize that some of his most famous works were created as court painters.
– If you are looking for guest posts in lifestyle "write for us" now.